A Brief History of Limerick
A Medieval City
The Absolute Hotel Limerick is nestled in the Medieval quatre of Limerick City. Surrounded by some of Limerick's key tourist attractions such as
King John's Castle and St. Mary's Cathedral. The early Medieval City was established on the southern tip of King's Island which was formed by the Shannon and Abbey River and is now home to the Absolute Hotel Limerick.

Limerick City has a charter older than that of London and though the City has experienced many changes, the administrative center of the city is still situated here. The City was walled around 1185 and became known as English Town. Those who did not or could not embrace the Anglo-Norman Culture were forced to move to the opposite side of the river and in 1320 this area became known as Irish Town. Further expansion began in 1769 with the planning and building of the Georgian City. 


Explore Medieval Limerick with this 3km walking trail taking you to many significant locations.
Click Here > 

Round-The-Houses Motor Race
Did you know Limerick had its very own Motor Race! Taking place on the 6th August 1935 the route ran 4.44km. The route was from William Street to Roxboro Road through Carey's Road. It continued to Rosbrien Road through Punches Cross, O'Connell Avenue, and back down O'Connell Street.
First place was taken by Luis Fontes driving an Alfa Romeo.
Abbey Regatta
The Absolute Hotel Limerick overlooks the meandering Abbey River, which was once home to the Abbey Regatta. Taking place on an annual basis it was a key calendar date for many. Numerous events took place from the Veteran Pole to the Ladies Paddle Race. The Veteran Pole race saw contestants use long wooden poles that would reach the River bed and propel the boat.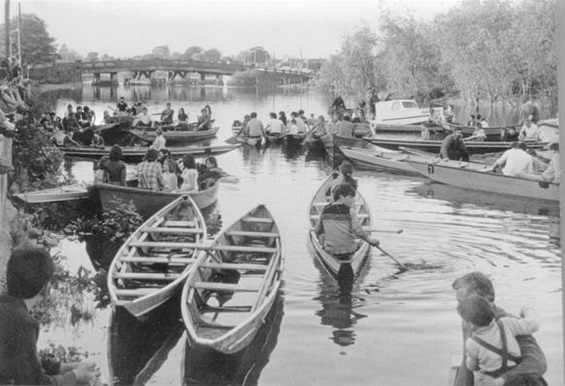 Lock Quay
Adjacent to the Absolute Hotel Limerick you will find the Lock Quay. The Lock Quay is a tidal lock famous for its Guinness operation until 1960. Barges would come from St James' Harbour in Dublin to Limerick which was unloaded and distributed. The last recorded barge of a Guinness delivery was in 1960. Now the lock is the starting point of a running, walking or cycle route along the canal from Limerick City to the University of Limerick.